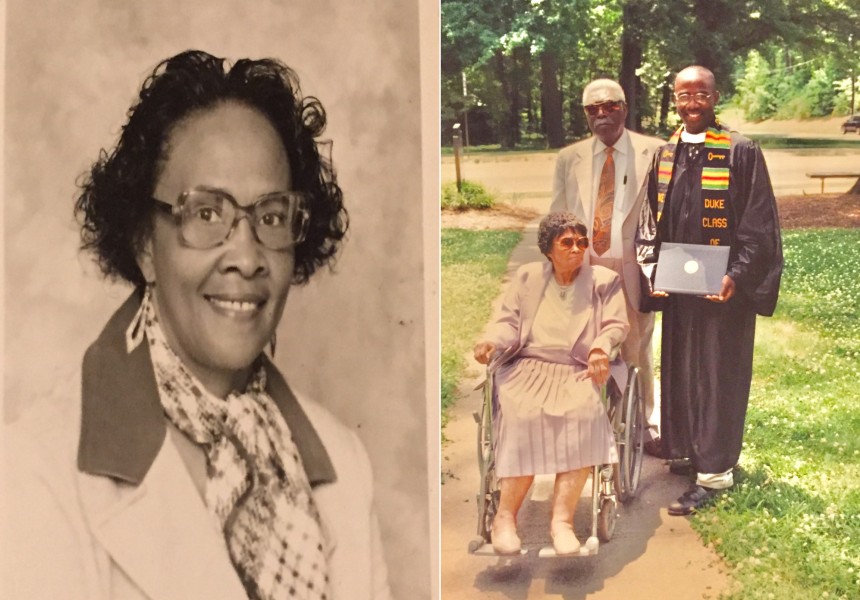 I'll never forget watching my maternal grandmother, Kathryn Nobles, -- a retired elementary school teacher, a community leader, and a wise, witty, and caring woman -- struggle with a form of Alzheimer's disease that was also physically debilitating in the final years of her life. Literally up until the point when she herself couldn't drive or cook anymore, she continued her life-long tradition of hand-delivering delicious, homemade meals to the elderly--even as she aged herself--and families in need in her rural Georgia community.
As her disease progressed, she had many, many doctors, but my family had to coordinate everything on our own. I watched my grandfather, Alfred Nobles, Jr., a retired county extension agent for the Department of Agriculture, spend his 80s lovingly caring for her in their home, cutting her pills, and preparing her favorite meals for over a decade. She also had the support of her adult children and grandchildren. Grandma was always safe, always loved, and we fought our hardest to get her the best medical care we could. But, she went two years without speaking because of undiagnosed depression, a situation that was eventually addressed, but after much lost time for all of us.
Later, as a doctor, I learned that the fragmented care my grandmother received was not unique. In fact, it's the norm. And I also saw that far too many seniors and other adults with serious medical, behavioral and social needs lacked the support needed to live well and age well, especially at home. Many don't have family who can help, and for those that do, they are left to make important and challenging care decisions with little-to-no professional help or guidance. This is especially true for historically underserved groups who face barriers to access care, such as poverty, housing instability, and food or health care deserts.
This problem affects us all, as it is these most vulnerable and medically complex individuals who make up less than 5 percent of the U.S. population, but account for half of healthcare expenditures. It is also a moral problem if we continue to tolerate this fragmented, substandard care for the patients who most need the health care system to work for them.
At ConcertoCare, we are determined to help change that.
We deploy an interdisciplinary care team of physicians, nurses, pharmacists, health coaches, behavioralists, and social workers, available in person and virtually. The care teams use ConcertoCare's proprietary population health analytics and decision support platform, Patient3D®, to help identify the next best action for each patient. We meet the unique needs of the patient and provider by delivering care alongside a patient's current primary care physician or serving as the provider of record.
We know that addressing patients' health needs alone is not enough. Our team also engages patients in their homes and virtually to help them gain access to non-medical support, including food, secure housing, transportation, caregiver support, safety evaluations, and social isolation prevention. Whenever feasible, our health coaches come from the communities we serve and incorporate an understanding of the unique barriers to equitable care faced by communities of color and in communities where patients speak a first language other than English. Beyond our own supports, we activate community agencies and resources to address patients' needs. And we are able to do this all because we work with value-based payers -- such as innovative Medicare and Medicaid plans and CMS value-based programs -- who pay us for improving health outcomes, not health inputs.
We believe our hybrid model, which employs both virtual and in-person care, is the most successful way to keep patients healthy at home. By combining technology with a human-first approach, ConcertoCare is uniquely positioned to streamline care coordination, creating a unique care model for the future.
To help us bring that future to more people, I am happy to announce that we closed a Series B funding round of $105 million. The round was led by @Wells Fargo Strategic Capital and also included investment from @Obvious Ventures, @Vast Ventures, @The Schusterman Family Foundation, @SteelSky Ventures, @Pennington Partners, and returning investor @Deerfield Management. We're excited about this vote of confidence, and just as excited about what comes next. ConcertoCare currently serves patients in eight states across the country, and we plan to use the funds to scale delivery of our comprehensive care model to more seniors and adults with unmet health and social needs.
And that takes me to the second part of our announcement: ConcertoCare acquired @Crown Health, a leading home-based primary care practice serving the Pacific Northwest. This growth builds on the success we're seeing across our markets from our work with a variety of payers, including Medicare Advantage, Medicare-Medicaid plans, and CMS value-based care programs. We can't wait to start bringing our model of care to more patients in that part of the country, and, in fact, across the country, so that more people have the kind of integrated care that my family would have wanted for my grandmother.